Understand of Oracle Cloud Quarterly Updates
Each Quarterly patch bundle includes various security and functional amendment patches for issues occurred since last update. It is important for your organisation to test and deploy communication with your external integration systems to avoid any discrepancy could happen in your production environment.
This blog will shadow the principle of Oracle Cloud Quarterly Updates, actions required prior to and after the 23a update with a focus on test areas that should be included in your testing plan.
Deadline to Upgrade to Release 23a: Saturday December 16, 2023

Release 23A End of Life (EOL): Saturday, Apr 20, 2024

Release Versions and Dates: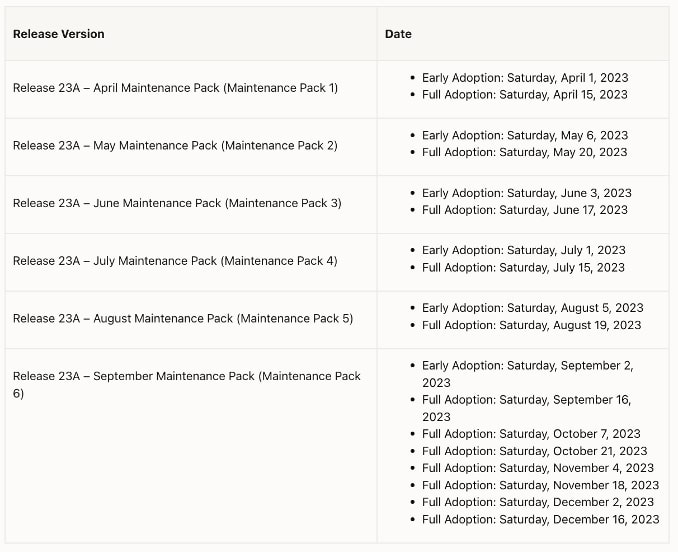 Action Required Prior to the 23a Quarterly Update
Review Opt-in features and take actions accordingly to align with your business-specific requirement. Read More on Oracle Cloud 23a Release New Features Highlights.
Test and validate any custom stylesheets that are currently in use for the stylesheet content page.
Test your quarterly patch bundles for technical components.
Update and review custom SQL and reports.
Focused test areas to be included in your testing plan after Oracle Cloud update
Integration tests confirming APIs (such as XML, REST) still work and exercise your agents and back-end processes.


Communication between third party external integration systems.


Critical custom reports and custom queries, SQL updates.


UI tests to validate any visual element and processes are performed as expected.


Test the enhancement that will apply to your organisation's unique features.


Review key business process flows.


Plan ahead on your calendar to test the cadence environment and then to the production environment in a timely manner.


Follow the scheduled timeline – keep an eye on the release note.


Read through the release note for the new features, and for any Opt-in expirations.


Report any unexpected problem to your test team/partners as soon as possible to avoid major failure in the production environment.


OpKey for Oracle Fusion Cloud Testing Automation
With more than 5,000 testing cases especially pre-built for the Oracle Cloud ERP environment, Opkey's test discovery feature can reduce more than 90% of the manual testing effort, save more than 30% time of your update cycles, and cuts more than 50% of your test maintenance effort.


With each quarterly update, Opkey provides a detailed impact analysis report, and highlights every configuration and custom fields that are impacted from the latest updates across your Finance, SCM, Project management and other departments. Opkey also provides self-healing technology allowing customers to quickly identify and fix any broken scripts in the updates.


Book a free Opkey demo today and facilitate your automation testing for Oracle Database 23a Release.